Kenya's wildlife and conservation efforts are at an increased threat due to the ongoing Covid-19 pandemic. With the ongoing travel restrictions, analysts have predicted that the tourism sector across the world will lose as much as 2.2 trillion dollars this year. This hits hard especially in Kenya, where 8% of the economy depends on tourism activities. As part of our annual intensive monitoring of predators, we went camping. We decided to pitch our tents in the Mara Triangle to gather data and observe wildlife patterns.
With several wild animals bound to roam around in the night, we were careful not to put ourselves at risk. By taking the necessary precautions, this ensured that we were safe from attacks. For instance, we had to prepare our meals as early as possible, before 6 pm. This meant that our nights were especially long. The plus side was that we got plenty of rest. Setting up a bonfire also protected us since this kept them away from the camping area.
Around this month, the Maasai Mara is usually teeming with flocks of tourists from across the world. This is because of the great wildebeest migration, where thousands of animals cross into Kenya from Serengeti National Park across the Mara River. It was rather strange that very few people were present camping and observing wildlife in the sanctuary. We felt really sad that just when the park was full of wildlife, very few people were around to enjoy it.
There were subtle changes too, changes that only seasoned wildlife experts might notice. Some of them are indescribable, but they're still felt. For instance, our team noted that the lion cubs were especially anxious around vehicles. This was out of place, seeing that the lions of Mara are not easily spooked by tourist cars and are rather fond of them. It just shows that the lions born in the Covid19 era have not seen many tourist vans making their way across their territory.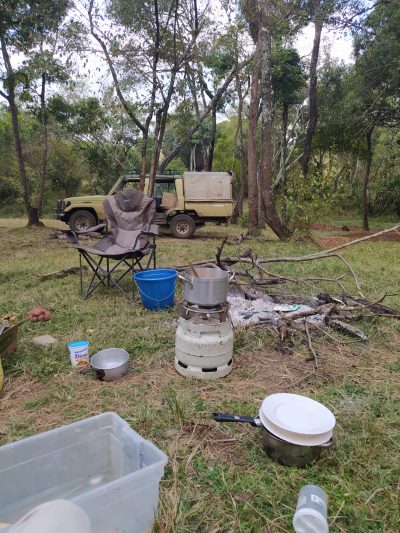 There is nothing in the world like spending a night in the bush. Listening to the roar of lions at a very close distance was the best experience ever. The camping experience was incredibly memorable. Every evening we sat by our campfire and were mesmerised by the nightmare sounds of the bush. The sounds of Lions roars and elephants trumpet was coming from different directions. One morning, we had elephants visit during breakfast. Luckily the jumbos noticed our presence and in their true nature, they immediately changed their direction. Grazing hippos also came to say hi near our tents at night, giving us an exhilarating scare. The camping experience was one of its own kind.
There are fears that due to the reduced incomes from the pandemic, some of the Mara Conservancy's shareholders, the Maasais living nearby, might not receive their share of tourism proceeds this year. Add game rangers and other park officials to this list and you are witnessing an entire industry crumble. It hurts to think about it, but we can reverse the situation by doing what we can to travel to the parks. We had a wonderful time, and so will you